A few years ago we met with an African PH with a great philosophy, "You arrive as a client and you leave as a friend." He has made some great friends at his lodge on the edge of the Kalahari, but he's taken some even better trophies. Kudu can get to the magic 60 inch mark here.
His lodge is near an oasis in the south of Namibia on the border of the Kalahari Desert, 125 miles south-east of Windhoek. This Family has been guiding safaris for over 40 years. You hunt through a variety of landscapes: from red sand dunes to open areas, to dense bush. Clients have called this safari "what South Africa was 40 years ago." (Except with the bonus of first class amenities!) Superb meals are the rule, with excellent accommodations.
Getting clients a good trophy is what they do best. The PH and his son do the guiding, while the PH's wife and her team of helpers will be to your every need when it comes to dining and cleaning. They only accept one party at a time, so when your party books, those are the only hunters there. This is an excellent hunt to bring non-hunters. They also do tours, photo safaris and shopping trips. Clients are accommodated in luxury rooms decorated with handmade artifacts made in Namibia. They cater to the whole family as they have several tamed and semi-tamed animals around the lodge. You can also observe a large variety of wild birds and Namibian plant life. And the food is usually called Superb- by clients.
Most of the hunting is done within 45 minutes of the lodge, depending on the species you're after. They like to show guests as much of Namibia as possible, so you will likely visit or hunt several different areas during your trip. You need not be concerned about running into other hunters because all hunting is done on privately-owned land with the permission of the land owner. They have access to both high-fenced as well as free-range properties totaling over 200,000 acres, about 70% of which is free-range, including 50% of their own ranch.
After a successful day in the hunting fields you can enjoy ice-cold beverages in the lapa (Thatch roof) or a special sundowner on the red Kalahari dunes. Traditional Namibian meals are served family style or special requests can be catered as you prefer.
All guest rooms have an in-suite bathroom with 24-hour hot water and electricity. The electricity in Namibia is 220 volts. The fresh drinking water is pumped from boreholes (wells) deep below the earth's surface and it is perfectly safe for drinking. They also have bottled water. There is WIFI and cell phone reception at the lodge and some hunting areas. There is also a swimming pool, and daily laundry service.
2019 PRICES (subject to change without notice until deposit received; all prices in USD)
As is the case with most safari operators in Africa, pricing consists of a base daily rate for whatever number of days you'd like, plus trophy fees for all species harvested (or wounded). We like this pricing structure because you only pay for those species that you bag, and there is lots of incentive for the PH to put you on game. However, they also offer a number of pre-set packages that include the daily rates and trophy fees for all animals contained in that package. Typically, the trophy fees included in these packages are discounted from normal prices, so these packages offer tremendous value. Additional trophies can be added. All hunts require a 50% deposit upon booking, with the balance payable in cash (no checks/traveler's checks) upon arrival.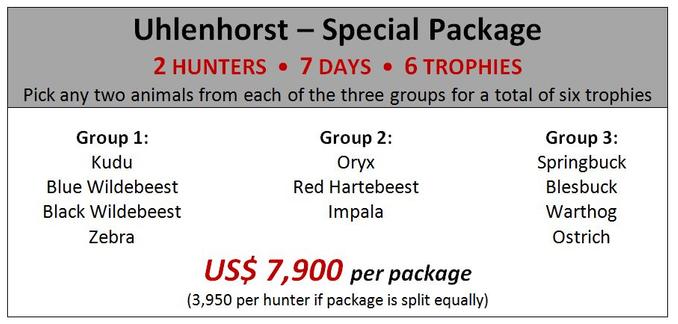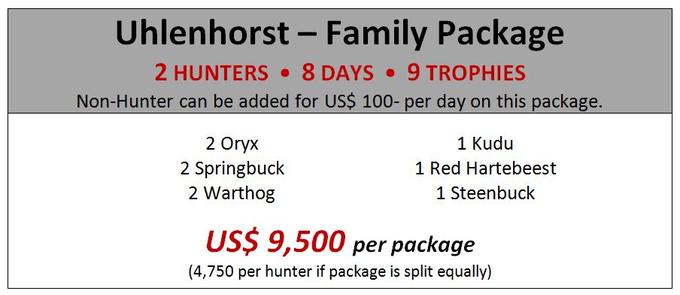 Big Saver
1 HUNTER • 7 DAYS • 4 TROPHIES
1 Oryx
1 Springbuck
1 Blesbuck
1 Steenbuck
US$ 2,900 per hunter
Big Spender
1 HUNTER • 7 DAYS • 10 TROPHIES
1 Kudu
1 Zebra
1 Wildebeest
1 Oryx
1 Red Hartebeest
1 Impala
1 Springbuck
1 Blesbuck
1 Warthog
1 Steenbuck
US$ 8,900 per hunter
Group Package – 4 Hunters or More
Per Hunter • 8 DAYS • 5 TROPHIES
Each hunter can pick one of the two package options
Option 1:
1 Kudu or Wildebeest
1 Oryx (Gemsbuck)
1 Springbuck (Kalahari)
1 Impala
1 Blesbuck
Option 2:
1 Kudu or Wildebeest
1 Oryx (Gemsbuck)
1 Springbuck (Kalahari)
1 Red Hartebeest
1 Warthog
US$ 4,900 per hunter
Note:
In packages that include 2 hunters, the second hunter may be swapped out for a non-hunter. In that case, the remaining hunter will take all the trophies listed in the package. AN ANIMAL IS CONSIDERED HARVESTED WHEN BLOOD IS DRAWN, EVEN IF NOT RECOVERED.
Included in package Price:
Airport pick-up and drop-off
Professional Hunter, skinner and tracking services
Accommodation for the number of days listed
Meals, Beverages, Laundry services, Wireless internet
15% Value added tax (VAT) for the accommodation of package
Not included in package Price:
Dipping/Shipping/Taxidermy cost.
Guided tours and Photographic safari's requested.
Use of lodge private phone
Rifle rental and ammunition cost.
Staff gratuities
GETTING THERE
You must fly into Windhoek, the capital of Namibia, generally via Johannesburg. Your outfitter will pick you up there.
All luggage, domestic and international, is now being screened in South Africa. Screeners are finding ammunition in checked bags that is incorrectly packed and are forcing passengers to remove it from their bags, which is causing all kinds of havoc.
All ammunition must now be packed and transported in a lockable ammo box placed within your checked luggage. A manufacturer's carton is no longer sufficient. Remember that there is also a limit of five kilograms of ammo per passenger. That includes the weight of your ammo box. And don't forget to declare your ammo at check-in.
Daily Rates (Accommodation) US$ Hunter 350
Non-Hunter $180
Daily Rates Include:
Airport pick-up and drop-off
Professional Hunter, skinner and tracking services
All meals and refreshments
Full Accommodation for the duration of the hunt.
Laundry services
Field preparation of the trophies
Wireless internet at the lodge
Daily Rates Exclude:
15% Value added tax (VAT) on daily rates.
(No tax is payable on Export Trophies)
Cleaning, Dipping, Shipping &Taxidermy cost of trophies.
Guided tours and Photographic safari's requested.
Use of lodge private phone
Rifle rental and ammunition cost.
Staff gratuities
Trophy Pricelist US$
Springbuck (Kalahari) 450
Springbuck (Black) 750
Springbuck (White) * 1,500
Oryx / Gemsbuck (Kalahari) 750
Kudu (Greater) 1,900
Blue Wildebeest 1,300
Black Wildebeest 1,300
Warthog 490
Impala 600
Zebra (Hartmann/Mountain) 1,300
Zebra (Burchell/Plains) 1,300
Red Hartebeest 650
Blesbuck 550
Blesbuck (White) * 750
Steenbuck 290
Duiker 390
Ostrich 500
Eland 2,300
Waterbuck 2,500
Giraffe 3,500
Sable * 8,500
Roan * 10,500
Lechwe (Red) * 3,500
Baboon 250
Jackal 100
African Wildcat * 300
Caracal * 500
Nyala **P.O.R
Klipspringer **P.O.R
Damara Dik-Dik **P.O.R
Leopard **P.O.R
Cheetah **P.O.R
Non-Trophy/Management Animals: Available **P.O.R
Rifle Rental (Plus cost of Ammunition) per day – 50
HUNT-NATION – FOR GLOBAL HUNTING AND FISHING ADVENTURES!
307-637-5495; info@hunt-nation.com; www.hunt-nation.com